This project started as my college Game Design Capstone, where I worked with a team of over 30 people to create a complete game. During the Capstone, I was an environmental artist and the Art Co-Lead. However, after the completion of the Capstone, I continued development of the game as the sole artist on a team of only 4.
For this project, I created concept art, 3D modeled and textured environmental assets, and was responsible for populating assets into our various themed levels. In addition, I was in charge of creating camera flythroughs for every level to showcase their different elements and layouts. I also created the current version of our trailer, which showcases the build of our game from right after our Capstone was completed.
Placement of environmental assets into levels was done in Unity itself.
Recently, after taking over as the only artist on the project, I decided to rework a lot of the art assets we'd made to create a more cohesive yet varied style. I wanted all our assets to look around the same level of detail, which was a problem we'd had before with small foliage like flowers and grass. At the same time, I wanted all of our levels to feel like different environments. So, I replaced or retextured much of our small foliage, developed variations on assets we'd previously created, and modeled a whole bunch of new assets that would fill the gaps from our previous palette. Then, I proceeded to redecorate our levels in a way that could allow each to feel distinct from the rest.
A good example of this was our jungle setpiece level, titled Dino Peninsula. I felt that my previous attempt at decorating the level felt too crowded in some areas and too sparse in others, overwhelming with how many different art assets were shoved in despite contrasting colors and textures, and very blocky due to how our level geometry was build. I knew I had to limit the palette of assets used and recreate the level terrain in as few meshes as possible to allow it to look natural.
The redesign segmented the different types of different foliage to different areas of the map. I let the islands to the left and right of the main portion be their own separate biomes to draw intrigue and encourage players to navigate to them. For the main island, I limited it to two types of trees (though there were several variations of the conical tree), ferns, grass, ground flowers, and tree stumps. I reworked the geometry of the different islands to add beveled edges, which I feel makes it feel a lot more polished.
Modeling work for the project was done in Blender then textured in Photoshop.
For this project, I worked on environmental modeling. I worked off a spreadsheet to fill out our environments with foliage and trees. After taking over the project though, I did large revamps of all of our flowers and the jungle grass, as they were all too detailed for the simplified art style we were going for. I also created variations of trees assets that one of our previous artists had created and my own to add subtle variation across expanses of these assets. In addition, I worked on new assets that would fit the these and fill specific niches, like logs and stumps to border the main path you'd travel and a variety of water plants to add texture and color to the large masses of water in our game.
I textured the majority of the models myself, but for the volcano levels in our game, I partnered with a VFX artist to create smoldering and molten textures for several of my models.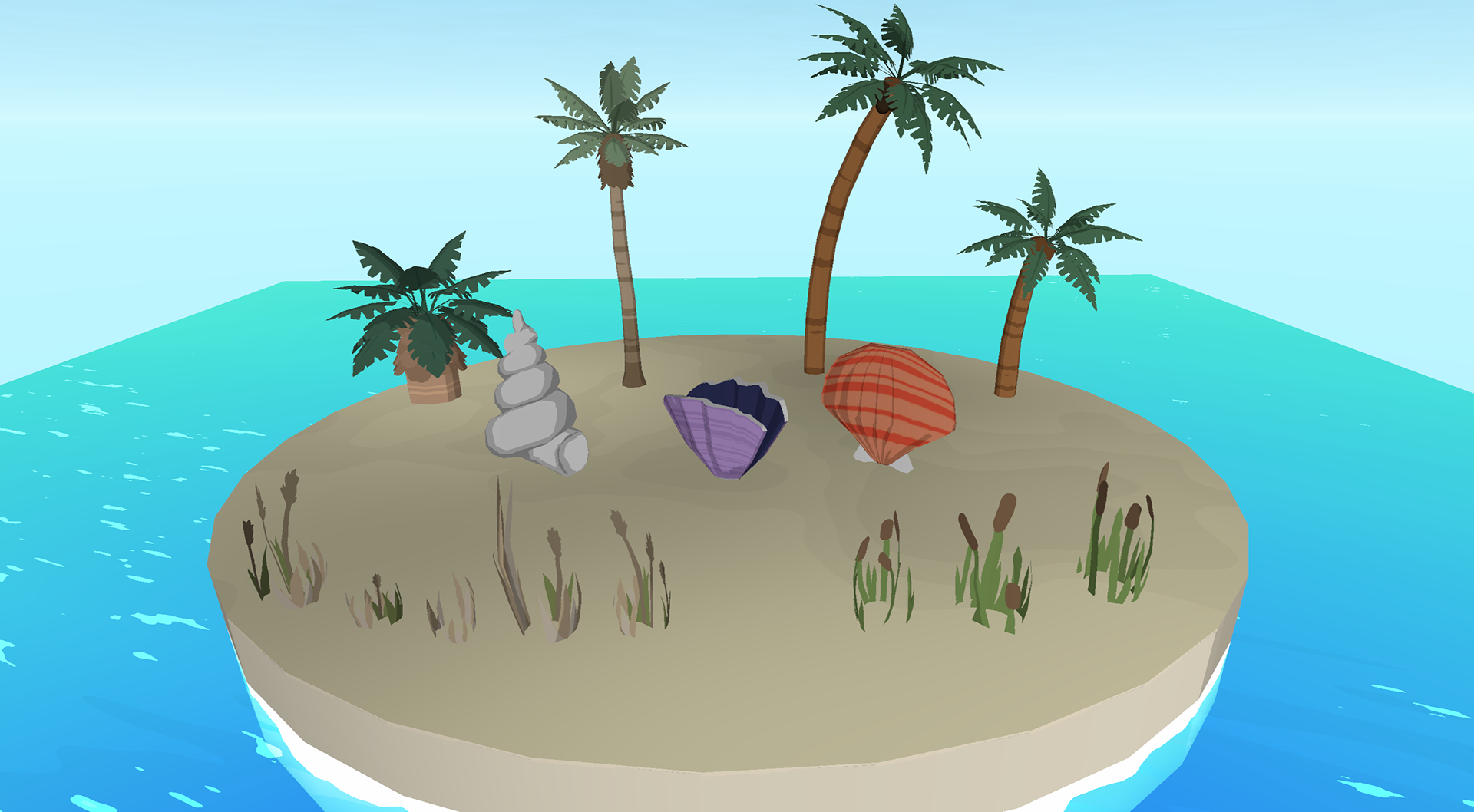 Concept Art imitating a low poly art style was done in Photoshop.